12/18/15 "Many Shepherds Themselves Have Brought My Vineyard to Ruin" (Jeremiah 12:10)

Elders have a weighty responsibility within God's household. That is why James wrote: "Not many of you should become teachers, my brothers, knowing that we shall receive heavier judgment." (James3:1) And the apostle Peter counselled the elders to, "Shepherd the flock of God in your care, not under compulsion, but willingly; neither for love of dishonest gain, but eagerly; neither as lording it over those who are God's inheritance, but becoming examples to the flock." (1 Peter 5:2,3) Yes, the time will come when Jehovah will hold the shepherds accountable for how they dealt with his sheep.

In the first century, elders were appointed by holy spirit. (Acts 20:28; 13:2, 4) It was holy spirit that taught and qualified the elder for his responsibility of shepherding God's flock. (1 Cor. 2:10; 2 Cor. 3:5; 2 Tim. 2:2) In his letter to Titus, Paul gave instructions that "an overseer must be free from accusation as God's steward, not self-willed, not prone to wrath, not a drunken brawler, not a smiter, not greedy of dishonest gain, but hospitable, a lover of goodness, sound in mind, righteous, loyal, self-controlled, holding firmly to the faithful word as respects his [art of] teaching, that he may be able both to exhort by the teaching that is healthful and to reprove those who contradict." (Titus 1:5-8)

Today, although it is claimed that elders within the congregations are still appointed by holy spirit, that is in name only. In reality, they are appointed by the governing body of the secular Watchtower Society, to whom they must be submissive. It is common for an elder to quote Paul's words, saying that we must be "obedient to those who are taking the lead among you and be submissive, for they are keeping watch over your souls as those who will render an account"; ―the congregation to the elders, and the elders to the governing body. (Heb. 13:17) What, though, is the responsibility of an elder towards Jehovah, and to his people, when he comes to realize that some of the governing body's teachings actually contradict the Scriptures, thereby making "the word of God invalid"? (Matt. 15:6-9)

That was the situation among God's people back in the days of Israel. The priests and Levites had the responsibility of teaching the people God's Law as given through Moses; including the blessing for keeping the covenant, and the malediction for breaking it. (Neh. 8:5-8; Mal. 2:7) But whenever a wicked king came to power―which most of them were, the priests and Levites―as shepherds of God's people, more often than not followed the lead of the wicked king to whom they were obedient, thus turning the people away from Jehovah. In this climate, false prophets who spoke in God's name prospered in further misleading the nation. It was "with Jehovah himself [that the priests, the house of Israel, and the king] dealt treacherously," so that Jehovah "had drawn away from them." (Ezek. 22:26-31; Hosea 5:1-7)

Today's shepherds of God's people resemble in many ways the shepherds of Israel, to whom Jehovah said:
"Woe to the shepherds of Israel, who have become feeders of themselves! Is it not the flock that the shepherds ought to feed? The fat is what you eat, and with the wool you clothe your own selves. The plump animal is what you slaughter. The flock itself you do not feed. The sickened ones you have not strengthened, and the ailing one you have not healed, and the broken one you have not bandaged, and the dispersed one you have not brought back, and the lost one you have not sought to find, but with harshness you have had them in subjection, even with tyranny. And they were gradually scattered because of there being no shepherd, so that they became food for every wild beast of the field, and they continued to be scattered. My sheep kept straying on all the mountains and on every high hill; and on all the surface of the earth my sheep were scattered, with no one making a search and with no one seeking to find.
"'"Therefore, you shepherds, hear the word of Jehovah, '"As I am alive," is the utterance of the Sovereign Lord Jehovah, "surely for the reason that my sheep became something for plunder and my sheep continued to be food for every wild beast of the field, because there was no shepherd, and my shepherds did not search for my sheep, but the shepherds kept feeding themselves, and my own sheep they did not feed,"' therefore, you shepherds, hear the word of Jehovah. This is what the Sovereign Lord Jehovah has said, 'Here I am against the shepherds, and I shall certainly ask back my sheep from their hand and make them cease from feeding [my] sheep, and the shepherds will no longer feed themselves; and I will deliver my sheep out of their mouth, and they will not become food for them.'" (Ezekiel 34:2-11)

The shepherds of God's people will receive heavier judgment, as James wrote, for God will ask his sheep back from them. Their excuse of having been obedient to those taking the lead, the governing body, will be in vain, for they should have been obedient and submissive to our Great Shepherd, Christ Jesus.

Jehovah is not holding the sheep accountable for what the shepherds are doing, or failing to do. But at the same time it would not be wise to feel that it is our responsibility to correct the shepherds. We have not been appointed as judges; and also it could result in problems for ourselves that Jehovah would not shield us from. (Acts 17:31; 1 Cor. 4:5) Being disfellowshipped makes it harder to endure in our worship, since we need each other for the association and encouragement. That is why Jehovah has the arrangement of his household. (John 16:1-4; Heb. 10:23-25) But if misled elders make it difficult for us to associate with our brothers any more, then we need to rely on Jehovah to sustain us. Be assured that he will help you to endure as long as you remain loyal to him. (Psalms 18:25) No one, not any elder, judicial committee, nor any authoritarian body of governors can separate us from God's love when we stick loyally with him. (Rom. 8:38,39) There have always been individuals who remained faithful under oppressive and wicked rulers, although they were in the minority. And Jehovah always kept his watchful eyes on them, to sustain them. (1 Kings 19:18; 2 Chron.16:9)

"What will separate us from the love Christ has for us? Can trouble, distress, persecution, hunger, nakedness, danger, or violent death separate us from his love? As Scripture says: 'We are being killed all day long because of you. We are thought of as sheep to be slaughtered.' The one who loves us gives us an overwhelming victory in all these difficulties. I am convinced that nothing can ever separate us from God's love which Christ Jesus our Lord shows us. We can't be separated by death or life, by angels or rulers, by anything in the present or anything in the future, by forces or powers in the world above or in the world below, or by anything else in creation." ―Romans 8:35-39; GOD'S WORD Translation.
---
12/2/15 "Speak Consolingly to the Depressed Souls" (1 Thess. 5:14)

Many among God's people are depressed these days, wondering if perhaps they have lost God's spirit, the fruitage of which includes joy, peace, and long suffering. (Gal. 5:22,23) And do the Scriptures not say that "happy is the people whose God is Jehovah"? (Psalms 144:15) Are we perhaps not God's people? There are troublesome developments within the organization that bears God's name, which has caused no little confusion, and depression, among many members of God's household. These include former teachings that we had in the past accepted as "truth," but now have been reinterpreted and thus dismissed by the present self-proclaimed "faithful and discreet slave," thereby acknowledging that these teachings had not originated with Jehovah. Anyone who may not accept the present understanding may be viewed as being apostate, with some having been disfellowshiped for such reason. (John 16:1-4)

If you have become overly depressed, perhaps even having lost all desire to live, please understand that it is in all probability a medical issue, and is not because of the truth, or lack of it; nor is it a reflection of a lack of faith; nor any measure of how Jehovah views you as a person―one of his precious sheep. Jehovah is equally concerned about all his sheep, as Jesus explained in his illustration of a man having 100 sheep, and leaving the 99 to go and search for the one that became lost. Jehovah is not uncaring! (Luke 15:1-7) Those of us who are suffering must understand that our healing and relief has to wait for God's kingdom. There are literally thousands of Jehovah's sheep longing for the day when they will be free of such things as cancer; or blindness; or lameness; or sleeplessness; or pain; or depression; or ... etc. etc. We have the sure hope that the day will soon come when such suffering will be a thing of the past, which hope is solidly based on God's promises. . . and not those of the Society. (Isaiah 33:24; Rev. 21:3-5)

Although we yearn to be healed now, Jehovah is not going to do that at the present time. He has an appointed time for it. He wouldn't even do that for Paul, in spite of Paul's many pleadings. But he did help Paul to endure, even prosper, in spite of his "thorn in the flesh." Paul had the power to cure others, yet he couldn't cure himself. (Acts 19:11,12; 2 Cor. 12:7-10) Jehovah hears the cries for help of his people, and assists them to endure the present pain and suffering, or depression, or whatever might become a cause for stumbling.

Often the suffering of a person can also turn into a blessing. How? It takes someone who knows what it feels like to be depressed, or in pain, or have feelings of worthlessness, to be able to help and encourage someone else who is similarly suffering. It is called empathy, which is sadly lacking in a lot of people (yes, even among the elders), who have no idea what some are having to put up with just to get through the day. That is one reason Jesus himself had to undergo suffering, for we are told that by his suffering he was made perfect, seeing that until he came to earth he had not experienced any sort of suffering; or have his integrity to God tested under suffering. It's not the same seeing someone suffer, and feeling pity for them, as it is having to experience it for oneself. (Heb. 2:10; 5:7-9; 1 Peter 4:13; Rom. 8:34; Heb. 7:25)

Jeremiah was often depressed, not only on account of the rejection of God's message that he was commissioned to preach, but also because of the opposition and persecution, being ostracised by his own people. In fact, he even decided to quit, saying: "I am not going to make mention of him, and I shall speak no more in his name." (Jer. 7:27,28; 12:1,2; 20:7-11) Is that how you feel at times? Jehovah will not hold that against you, for he understands how you feel. Jeremiah found much comfort in knowing that Jehovah is a caring and merciful God; and that it is due to "the acts of loving-kindness of Jehovah that we have not come to our finish, because his mercies will certainly not come to an end. They are new each morning." (Lam. 3:22,23) When you cry out to Jehovah for help in the morning, please be assured that he will help you make it through the day―one day at a time. His "mercies will not come to an end" for he will not abandon us, until the day when we are all healed.

You have Jehovah's promise that one day you will be able to look back and sing his praises with thanksgiving for having carried you through the toughest times; to experience the real life, living every day to the fullest with joy and happiness, free from any pain, anxiety, suffering, and depression. At that time you probably won't even remember what it was like way back when―in our present day and situation; and how fleeting the time really turned out to be. "For here I am creating new heavens and a new earth; and the former things will not be called to mind, neither will they come up into the heart." Yes, "the former things have passed away." (Isaiah 65:17, 21-25; Rev. 21:4) In the meantime, you might find some comfort in knowing that the problems we are experiencing within God's household were foretold for the time just prior to Jesus' presence. "But as these things start to occur, raise yourselves erect and lift your heads up, because your deliverance is getting near." (Luke 21:28) Hang in there!
---
11/27/15 "You are Very Precious to God." (Daniel 9::23; NLT)

Would you not be thrilled if you were told that you are very precious to God, especially if it was said to you by an angel, a messenger sent from God? That is exactly what happened to Daniel the prophet, for "while [he] was yet speaking and praying and confessing [his] sin and the sin of [his] people Israel," the angel Gabriel appeared to him, saying: "Daniel, I have come here to give you insight and understanding. The moment you began praying, a command was given. And now I am here to tell you what it was, for you are very precious to God." (Dan. 9:22,23; NWT) What was it about Daniel that made him outstanding among God's people? And can we too be someone precious to God? (Ezek. 14:14, 20)

In 617 B.C.E., seventy years prior to Daniel's above mentioned prayer, the king of Babylon had come against Jerusalem and taken king Jehoiachin into exile, as well as the royal and noble offspring; and also the craftsmen and valiant mighty men of Israel―about ten thousand captives in all; at which time also much of the treasures of the house of Jehovah was carried away to Babylon, just as Jeremiah had prophesied. (Jer. 25:8-11; 27:12-22; 29:1, 10) Among these captives was young Daniel, and his three companions, Hananiah [Shadrach], Mishael [Meshach], and Azariah [Abednego]; and the prophet Ezekiel. (Dan. 1:1-7; 9:1,2; 2 Kings 24:8-17; Ezek. 1:1-3) As Jehovah had forewarned, his judgment came upon his wicked people who had rejected his prophets. Ezra records that king Zedekiah, and "even all the chiefs of the priests and the people themselves committed unfaithfulness on a large scale, according to all the detestable things of the nations, so that they defiled the house of Jehovah which he had sanctified in Jerusalem. And Jehovah the God of their forefathers kept sending against them by means of his messengers, sending again and again, because he felt compassion for his people and for his dwelling. But they were continually making jest at the messengers of the [true] God and despising his words and mocking at his prophets, until the rage of Jehovah came up against his people, until there was no healing." (2 Chron. 36:11-21)

Living among such a wicked generation, it must have been a real challenge for anyone to continue obedient to God, and not be influenced into accepting the badness as normal. Daniel remained upright and loyal to Jehovah even in his youth. And Jehovah was keeping his watchful eyes upon him, even after he was carried away from his home as prisoner to the distant land of the Chaldeans. (Psalms 34:15; Dan. 1:8-21)

Here is an important lesson for us: Daniel was taken into exile, not on account of his own badness, but on account of the wickedness of the people, including the kings and the priests. Yes, Daniel and his three companions, and the prophet Ezekiel—and perhaps many other righteous ones—suffered because of the badness of the nation as a whole. And yet, Daniel did not find fault with God for this seeming injustice. He was a humble person. When he was praying, he included himself among the ones needing forgiveness, for he prayed, saying, "we have sinned and done wrong and acted wickedly and rebelled; and there has been a turning aside from your commandments and from your judicial decisions. And we have not listened to your servants the prophets, who have spoken in your name to our kings, our princes and our forefathers and to all the people of the land. To you, O Jehovah, there belongs the righteousness, but to us the shame of face as at this day, to the men of Judah and to the inhabitants of Jerusalem and to all those of Israel, those nearby and those far away in all the lands to which you dispersed them because of their unfaithfulness with which they acted against you." (Dan. 9:5-7) Daniel considered Jehovah to be wholly righteous. Throughout the seventy years in exile he continued to trust in Jehovah, daily talking to him in prayer; and not even being deterred when it resulted in being thrown into the lions' den. (Dan. 6:4-27)

Can you see why Jehovah considered Daniel to be a very precious person, "someone very desirable"? (NWT) As a whole, as the kings and priests of Israel acted, so did the people—unlike Daniel. And when Daniel too suffered on account of God's judgment upon the wicked, being taken into exile although he was righteous, he did not blame God or voice any complaints. He never wavered in his faith of God's righteousness, as he expressed in his prayer. Do you think that a complainer is precious to Jehovah? Or someone who stops attending meetings because of the lies that are taught in God's name? (Heb. 10:24,25; Jude 16) The Scriptures foretold that in "the last days critical times hard to deal with" will be experienced within God's household. Yes, "wicked men and impostors will advance from bad to worse, misleading and being misled." But that is not Jehovah's fault for allowing it thus far. (2 Tim. 3:1-7, 13; 2 Peter 2:1-3)

Don't allow your faith in God's righteousness and his promises to be shaken. Exercise patience, and leave the judging to Jehovah. James writes: "Exercise patience; make your hearts firm, because the presence of the Lord has drawn close. Do not heave sighs against one another, brothers, so that you do not get judged. Look! The Judge is standing before the doors. Brothers, take as a pattern of the suffering of evil and the exercising of patience the prophets, who spoke in the name of Jehovah." (James 5:7-10) Daniel the prophet suffered evil and yet exercised patience. You too can be precious to God by imitating the faith and patience of Daniel; and never doubting that Jehovah is keenly aware of your suffering on account of the wicked people who are still prospering within God's household. (Mal. 3:14-18; John 16:1-4)
---
11/10/15 "They Will Not Listen to You" (Jeremiah 7:27)

Jehovah commissioned Jeremiah to be his prophet when Jeremiah was still young, perhaps in his teens or early twenties. Why would Jehovah consider sending such a young person to deliver such a weighty message of judgment to his people? Would Jeremiah not lack credibility, for people to listen to him? Jeremiah himself felt inadequate, for he answered Jehovah: "Here I actually do not know how to speak, for I am but a boy." (Jer. 1:5-8) Not only could Jeremiah expect to be scorned due to his age; but also his message contradicted that of the false prophets who were likewise speaking in God's name. (Jer. 14:13-16) How would anyone have known who was preaching the truth―Jeremiah, who was telling the people to serve the king of Babylon; or the false prophets who were promising deliverance from the enemy? Listening to Jehovah's message, as proclaimed by Jeremiah, became a matter of life and death! (Jer. 27:9-17; 2 Peter 2:1-3)

Did God's people ever listen to their God? This is what Jehovah said to Jeremiah: "This is what I told them: 'Obey me, and I will be your God, and you will be my people. Do everything as I say, and all will be well!' But my people would not listen to me. They kept doing whatever they wanted, following the stubborn desires of their evil hearts. They went backward instead of forward. From the day your ancestors left Egypt until now, I have continued to send my servants, the prophets—day in and day out. But my people have not listened to me or even tried to hear. They have been stubborn and sinful—even worse than their ancestors. Tell them all this, but do not expect them to listen. Shout out your warnings, but do not expect them to respond. Say to them, 'This is the nation whose people will not obey the LORD their God and who refuse to be taught. Truth has vanished from among them; it is no longer heard on their lips.'" (Jer. 7:23-28, NLT)

Jehovah knew that his rebellious people would refuse to listen, no matter who he send. They did not want to be corrected. In fact, Jehovah noted that "my own people have loved it that way." (Jer. 5:29-31) When a person loves what he does he is not likely to change, even when it is shown to be wicked and endangering his relationship with God. (Compare Rev. 2:2-5) How could a person know whether Jeremiah was a true prophet of God, or a false one? It would depend on the person's heart. If he was shocked by all that wickedness and injustice in the land, and he knew God's laws on such matters, he would have agreed with Jeremiah's message; in fact, he probably would have found comfort in knowing that Jehovah was not going to tolerate the condition indefinitely. On the other hand, the false prophets dismissed God's judgment, even promising the people peace, thereby contradicting Jeremiah. (Deut. 28:15-64; Isa. 6:8-10; Jer. 23:16-20) History proves who God's true prophet was, when Jeremiah's words were fulfilled and the Babylonians came against Jerusalem and destroyed the city with its temple; and many of the people either perished or went into exile. (Jer. 39:2-9)

The apostle Paul says that "these things went on befalling them as examples, and they were written for a warning to us upon whom the ends of the system of things have arrived." (1 Cor. 10:11) We must take that warning to heart, for belonging to God's household is as conditional today as it was in Jeremiah's day—it requires that we listen to Jehovah.

The Scriptures warn that there is still a judgment in store for God's people, and that he will remove from among them all "persons who are doing lawlessness." (Matt. 13:40-43, 49) The apostle Peter writes: "For the time has come for judgment, and it must begin with God's household. And if judgment begins with us, what terrible fate awaits those who have never obeyed God's Good News? And also, 'If the righteous are barely saved, what will happen to godless sinners?'" (1 Peter 4:17,18, NLT; compare Matt. 24:21,22) Are there "godless sinners" among God's people today? Paul explains: "The lawless one's presence [within God's temple] is according to the operation of Satan with every powerful work and lying signs and portents and with every unrighteous deception for those who are perishing, as a retribution because they did not accept the love of the truth that they might be saved. So that is why God lets an operation of error go to them, that they may get to believe the lie, in order that they all may be judged because they did not believe the truth but took pleasure in unrighteousness." (2 Thess. 2:3,4, 9-12) Please note that Paul is not referring to the people of the world who do not "accept the love of the truth," but those within God's household, as he wrote in his second letter to Timothy. (2 Tim. 3:1-7; Compare 2 Peter 2:20-22; Jude 3, 12,13, 16-23; Heb. 6:4-8)

Who are the "godless sinners" among God's people today? Anyone who does not listen to Jehovah. That is why Jehovah allows an operation of error go to them, just as in the days of Jeremiah. Refusing to listen to Jehovah, they fall victim to "every unrighteous deception" as taught by the "lawless one," the "man of lawlessness." Jehovah speaks to us through his written word, the Bible. They could have demonstrated their "love of the truth" by testing the "inspired expressions to see whether they originate with God." They should have understood that anyone who contradicts what God's Word says, must surely be a false prophet. (John 4:23; 1 John 4:1, 6; Matt. 7:21-23)
---
11/7/15 "He Formed the Earth to be Inhabited" (Isaiah 45:18, ESV)

In the beginning God created the universe with its billions of galaxies, each of which in turn contain billions of stars and planets. The fact that he knows every star by name indicates that he designed it all for a purpose. When it says that God "put everything in place," it includes our earth, which he positioned at just the right distance from the sun, orbiting within precise time boundaries. It also includes the earth's vast variety of vegetation, trees and plants, providing abundant food for the enormous diversity of life. Why does all this exist? Because "he did not create [the earth] empty but formed it to be inhabited!" (Genesis 1:1; Psalms 147:4; Job 38:4-7; Isaiah 40:25,26; 45:18; NLT, GW)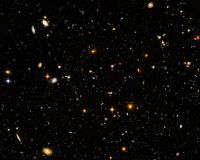 Have you ever wondered: Where does the universe start, and where does it end? If there is a limit to its size, what exists beyond it? The universe that is visible to the most powerful telescopes, is so enormous that distances are measured in light-years, which is the distance that light travels in one year, namely, 10 trillion km. Consider, it would take 4.24 light-years to travel to Proxima Centauri, the nearest star outside our solar system, speeding along at 300,000 kilometers each second. Our own galaxy, called the Milky Way, is about 150,000 light-years across; and the closest galaxy to us is the Andromeda Galaxy, which is 2.3 million light-years away. Can you comprehend the power and wisdom of the One who created it all?

Why is this of interest to us? Because, for one thing, it answers the age-old question, "Where do we come from?" But even more important, we are shown that the Creator of the universe wants us to get to know Him; even inviting us to have a personal relationship with Him. He cares for us, having created man in his own image. He is our Father, and we are his children, his "sons and daughters." (Gen. 1:26,27; Isa. 43:5-7; 2 Cor. 6:18) Our Creator has a name. He himself tells us: "I am Jehovah [YHWH]. That is my name." (Isa. 42:8) When God commissioned Moses to lead his people, the children of Abraham, out of Egypt, God told Moses: "This is what you are to say to the sons of Israel, 'Jehovah the God of your forefathers, the God of Abraham, the God of Isaac and the God of Jacob, has sent me to you.' This is my name to time indefinite, and this is the memorial of me to generation after generation." It was in Jehovah's name that Moses led the Israelites out of Egypt.

God's people know His name; just as Jehovah knows the name of everyone of his people. They are not ashamed of calling upon his name, for to them "the name of Jehovah is a strong tower. Into it the righteous runs and is given protection." (Prov. 18:10; 1 Cor. 8:3) We will need Jehovah's protection especially in the days ahead, as the foretold cleansing of God's household progresses, and all the wicked people and causes for stumbling are removed from the midst of God's righteous people. (Matt. 13:40-43; 1 Peter 4:17,18) By means of his prophet Malachi, Jehovah foretold: "At that time those in fear of Jehovah spoke with one another, each one with his companion, and Jehovah kept paying attention and listening. And a book of remembrance began to be written up before him for those in fear of Jehovah and for those thinking upon his name. 'And they will certainly become mine,' Jehovah of armies has said, 'at the day when I am producing a special property. And I will show compassion upon them, just as a man shows compassion upon his son who is serving him. And you people will again certainly see [the distinction] between a righteous one and a wicked one, between one serving God and one who has not served him." (Mal. 3:16,17;)

Being identified with the name Jehovah, does not mean that we follow the secular organization that has adopted the name, and claims to represent Jehovah. Being called by God's name—Jehovah—identifies us as belonging to the Creator of the universe; our only God and Father; yes, the same God and Father of Jesus Christ. It is to them that the earth belongs. (Psalms 37:10,11, 34; Acts 15:14-18; John 20:17,18; Eph. 1:17; Heb. 3:4-6)
---
11/3/15 "The Lord is the friend of those who obey him and he affirms his covenant with them." (Ps. 25:14; GNT)

Jehovah created man in his own image, with qualities that he himself possesses; and he deals with us accordingly. Instead of "lording it over" his people, he dignifies them by entering into a covenant with them; thereby allowing them the freedom to choose between accepting or rejecting friendship with Him. Life and blessings result from keeping his covenant; while serious consequences follow the breaking of a covenant made with God. (Genesis 1:26,27; 1 Peter 5:3; Jeremiah 11:10-12)

Mankind's relationship with his Creator has always involved a covenant between Him and man. WEBSTER'S NEW UNIVERSAL UNABRIDGED DICTIONARY defines a covenant as: "a binding and solemn agreement by two or more persons, parties, etc. to do or keep from doing some specified thing; a compact. 2. in theology, the promises of God to man, usually carrying with them conditions to be fulfilled by man, as recorded in the Bible." Also, INSIGHT ON THE SCRIPTURES, Vol. 1, states: "In effect, any promise made by Jehovah is a covenant; it is certain to be carried out; it can be relied on with confidence for its fulfillment. (Heb 6:18) A covenant is in force as long as the terms of it are operative and the obligation to perform rests on one or both parties. The results or the blessings brought about by the covenant may continue, even forever." ―it-1 p. 521 Covenant

Jehovah made a covenant with Adam immediately upon his creation, and upon settling him in the Garden of Eden. The term of the covenant was clearly stated, and it involved Adam's continued existence. The account in Genesis states: "And Jehovah God also laid this command upon the man: 'From every tree of the garden you may eat to satisfaction. But as for the tree of the knowledge of good and bad you must not eat from it, for in the day you eat from it you will positively die.'" (Gen. 2:7,8,16,17) Obedience to this simple stated law―abstaining from eating the fruit of the forbidden tree―guaranteed Adam's continued life, and God's blessings upon him and his wife Eve, and upon their future offspring. (Gen. 1:28; Deut. 30:20)

For that reason, the covenant with Adam is often referred to as the "covenant of works," or "covenant of life." EASTON'S BIBLE DICTIONARY says: "COVENANT OF WORKS, the constitution under which Adam was placed at his creation. In this covenant, (1.) The contracting parties were (a) God the moral Governor, and (b) Adam, a free moral agent, and representative of all his natural posterity (Rom. 5:12-19). (2.) The promise was "life" (Matt. 19:16, 17; Gal. 3:12). (3.) The condition was perfect obedience to the law, the test in this case being abstaining from eating the fruit of the "tree of knowledge," etc. (4.) The penalty was death (Gen. 2:16, 17). This covenant is also called . . . a covenant of life, because "life" was the promise attached to obedience; and a legal covenant, because it demanded perfect obedience to the law."

Symbolizing the terms of the covenant were two unique trees that Jehovah God had planted within the Garden of Eden―"the tree of the knowledge of good and bad," and also "the tree of life." The one tree symbolized breaking the covenant, while the other tree represented keeping the covenant and its reward. Both of the trees were located in the middle of the garden and therefore equally accessible. (Gen. 2:9; 3:3) Whereas eating from the forbidden tree would mean breaking the covenant of life and result in certain death, there was no such command regarding eating from the tree of life. The tree of life symbolized possessing the right to life, and thus Adam and his wife were permitted to eat of its fruit as long as they continued obedient to God's covenant. (Gen. 2:16,17; 3:1-3; compare Rev. 2:7; 22:1,2) The terms of this covenant made with Adam were much the same as the terms Jehovah told the nation of Israel over 2,500 years later, when he entered into a covenant with them: "I have put life and death before you, the blessing and the malediction; and you must choose life in order that you may keep alive, you and your offspring, by loving Jehovah your God, by listening to his voice and by sticking to him; for he is your life and the length of your days." (Deut. 30:19,20)

The command to abstain from eating from the forbidden tree is often mistakenly viewed as a "test." True, any command or law can be considered a test, but that is not the purpose for making them. For example, we have traffic laws, not for the purpose of testing the obedience or loyalty of motorists, but rather to ensure that traffic runs orderly and safely, although it can become a test for many. Without law there is chaos. Jehovah has always allowed men to choose their own course in life. He tells us what is best for us, but leaves the choice of what we do up to us. (Isaiah 48:17-19) Of course, with choice comes responsibility, and therefore Jehovah does not shield us from any consequences that come from the choices we make! Adam could have enjoyed endless life and the blessings that come from a relationship with his Creator, God―for himself and his posterity―by choosing to love Jehovah and by keeping the covenant. (1 John 5:3)

The purpose of God's command to Adam was not to test his obedience, but rather to establish a law, just as the laws of the covenant made with the nation of Israel were for the purpose of benefiting them. The law regarding the tree of the knowledge of good and bad was a simple law to which God would eventually add other laws as mankind grew in numbers. God did not create man with infinite wisdom, but wants us to learn from him. Man was not designed "to direct his [own] step," but rather to look to God for guidance. (Jeremiah 10:23) This is evidence of God's interest and great love for mankind as a loving and caring Father who finds delight in instructing his children, and then watch them grow in understanding and wisdom for the benefit of everyone. He did not create man just to abandon him and to fend for himself, as is all too often the case with parents today. In keeping with his great love, Jehovah has made provision for all those who, unlike Adam, listen and obey him by keeping the requirements of the new covenant, of which Jesus is the mediator, that leads to the everlasting life that Adam forfeited. (John 3:16-18; Matt. 26:28; Rom. 5:18-21; Heb. 9:15; 1 John 3:8)
---
10/28/15 "My Kingdom is No Part of This World"

That is what Jesus answered, when Pontius Pilate asked Jesus if he is the king of the Jews. (John 18:33-36) Jesus' kingdom has nothing to do with this world of which Satan is the ruler. (John 12:3 ) The Devil, as the ruler of the world, could offer Jesus the "authority and glory" of all the kingdoms of the earth in return for just one act of worship; which Jesus quickly rejected, telling the Devil: "Go away, Satan! For it is written, 'It is Jehovah your God you must worship, and it is to him alone you must render sacred service." (Matt. 4:8-10; Luke 4:5-8; 1 John 5:19)

Jesus was quoting Moses' words to the nation of Israel, God's people, who were poised to enter the promised land. It is of interest to note that by saying "it is Jehovah (YHWH) your God you must worship, and it is to him alone you must render sacred service," Jesus was at the same time reminding Satan that Jehovah is your God also; for Satan, who was at one time the beautiful and wise anointed covering cherub―until his rebellion in the Garden of Eden―owes his existence to Jehovah, "from whom all fatherhood, earthly or heavenly, derives its name." (Ezek. 28:13-19; Eph. 3:15, Phillips) Immediately upon the rebellion, Jehovah decreed that there could never be friendship, accommodation, or any sort of rapprochement between Satan's world and his own loyal worshipers. (James 4:4) This simple basic truth has caused certain confusion among many of God's people today. Yes, many have come to realize that the foretold "man of lawlessness" is situated right inside God's household; and not only that, in his position of power and authority he has also been teaching outright lies, thereby making God's word invalid. (2 Thess. 2:3-12; Matt. 15:7-9) This has caused them to wonder: "How are the lies taught by the Society's governing body any different from the lies taught by the religions of this world, notably Christendom's?"

The apostle Peter wrote: "However, there also came to be false prophets among the people, as there will also be false teachers among you. These very ones will quietly bring in destructive sects and will disown even the owner that bought them, bringing speedy destruction upon themselves. Furthermore, many will follow their acts of loose conduct, and on account of these the way of the truth will be spoken of abusively. Also, with covetousness they will exploit you with counterfeit words. But as for them, the judgment from of old is not moving slowly, and the destruction of them is not slumbering." ( 2 Peter 2:1-3) Peter is not describing false prophets of this world, of which Satan is the god, but the false prophets among God's own people. (2 Cor. 4:4; Ezek. 13:2-10) Do you have difficulty reconciling the fact that there are "wicked men and impostors" found within God's household, even in positions of oversight? Does that stumble you, perhaps viewing God's household as no better than the world of which Satan is the ruler?

Jesus said that when he "arrives in his [kingdom] glory, and all the angels with him," then he will "send forth his angels, and they will collect out from his kingdom all things that cause stumbling and persons doing lawlessness." Yes, "the angels will go out and separate the wicked from among the righteous" within God's kingdom. (Matt. 25:31; 13:41, 49; 2 Thess. 1:6-10) We see that after the wicked have thus been removed, Jesus will then also remove all vestiges of Satan's realm, all the wicked of this earth; with Satan himself being removed and imprisoned in the abyss. (Rev. 19:11-21; 20:1-3) God's tolerance of the wicked within his household, up to the present time, does not make us part of the world. (Rom. 2:3-6; 2 Peter 3:9) "Jehovah knows those who belong to him," and at the time when he removes anyone wicked, the righteous ones will be left over, and they "will shine as brightly as the sun in the kingdom of their Father." (Matt. 13:43; Psalms 37:10, 11, 37-40; Jude 21) Jehovah's loyal servants will have remained unspotted from this world; yes, and unspotted from the wicked within their midst. (James 1:27; Rev. 3:4,5) It shows a lack of understanding to equate God's household of faithful worshipers with this world of which Satan is the god, on account of the wicked who are presently associating with God's people. Although the lawless one's presence "is according to the operation of Satan," that does not make God's kingdom part of this world. (2 Thess. 2:9)
---
10/13/15 "Do Not Follow Them."

[Jesus] said: "Look out that you are not misled, for many will come on the basis of my name, saying, 'I am he,' and, 'The due time is near.' Do not go after them" (NWT); or as the Amplified Bible says: "Do not follow them." (Luke 21:8)

Almost two thousand years after Jesus said these words, we can look back over the centuries and see that there have indeed been many who claimed that Jesus' return was imminent; even during the time of the apostles. (2 Thess. 2:1,2) More recently, for the past 100 years, the Watchtower Society has sounded the message that the due time is not only near, but arrived in 1914; at which time Jesus is said to have returned in kingdom glory in the heavens, invisible to mankind on earth. Not as well known is the fact that for forty years prior to 1914, Charles T. Russell, the founder of the Watchtower Society, preached―along with many others―that Jesus was already present since 1874. But Russell was unique in claiming that the kingdom was near and would be established in 1914, at the end of "the gentile times," according to his calculations. He expected that all the saints would be taken up to heaven that same year to rule with Christ in his kingdom.

As we now know, time proved Russell's predictions regarding 1914 wrong,―they did not go to heaven that year; and World War I did not lead into the battle of Armageddon. After Russell's death in 1916, his conclusions and how he arrived at them, needed to be re-interpreted by his successors; and thus we have Rutherford's teaching on the matter, which has changed little over the past seventy-five years or more.

The Greek Scriptures tell us about Jesus―his birth; his ministry; his apostles; his death and resurrection; and the establishment of the Christian congregations after Pentecost. But also, of special interest to us, they foretell events far into the future that would have a profound impact on the congregations during the "conclusion of the system of things," the "harvest," as Jesus called it; also known as the "last days," or "time of the end." (Matt. 13:36-43; 2 Tim. 3:1-7; Dan. 12:4,9,10) During that time leading up to Jesus' return, the apostle Paul foretold the future presence of a "man of lawlessness" within God's temple, who would show himself to be "a god," actively exercising authority over the congregations, and requiring the obedience and loyalty of all of God's people. This would prove to be a test of loyalty for God's worshipers, especially in view of the fact that this "lawless one" would claim his authority as being from Jehovah and Jesus; when in fact his presence is "according to the operation of Satan with every powerful work and lying signs and portents and with every unrighteous deception for those who are perishing, as a retribution because they did not accept the love of the truth that they might be saved." (2 Thess. 2:3-12) This "man of lawlessness" is identified with the governing body of the secular Watchtower Society, of which Charles T. Russell was the first president. Paul writes that the Lord Jesus will do away with the man of lawlessness "by the spirit of his mouth and bring to nothing by the manifestation of his presence." Already we are witnessing the foretold revealing of the lawless one that precedes his removal from God's temple. (For more information please see: Does God Have an Organization?)

How are God's people impacted by the presence of this "son of destruction"―as he is also called; and his teachings by which he makes God's word invalid? (Matt. 15:3-9) By succeeding in getting them to put their trust in his "unrighteous deception" they turn their backs on Jehovah. (Psalms 146:3,5; Jer. 17:5-9) This ungodly presence actually serves Jehovah's purpose to help identify his true worshippers. (John 4:23,24) By allowing the man of lawlessness to exist and exercise authority within his household, God is separating the symbolic wheat from the weeds, and marking his loyal worshippers for survival. (Ezek. 9:4,6; Matt. 13:37-42, 49; Zeph. 3:11-13; Mal. 3:16-18) Jesus said that his "sheep follow him, because they know his voice. A stranger they will by no means follow but will flee from him, because they do not know the voice of strangers." (John 10:3-5, 26-28) We do not recognize the voice of strangers who claim to have the authority from God to demand our trust, and then coerce us into following them. During the harvest, Jesus will "send forth his angels to gather out from his kingdom all things that cause stumbling and persons who are doing lawlessness." Only those who listened to his voice will be left over in his kingdom. Thus the warning: Do not follow those who come on the basis of Jesus' name just to cause us to stumble. (Matt. 13:43; 7:21-23)

When Jesus says not to "go after them," or "not to follow" those who come on the basis of his authority, did he mean that we must separate ourselves from God's household? Seeing that we are God's temple, where the man of lawlessness has seated himself, that would not be reasonable. (1 Cor. 3:16,17; 1 Tim. 3:15) Not to follow them simply means that we do not put our trust in them. We do not include the lie that Jesus returned in 1914 when we preach the "good news of the kingdom." (Matt. 24:14) We do not follow them when they clearly contradict God's word. Rather, we patiently endure the situation and wait for Jehovah to remove them at his appointed time, as he has promised. Since he has allowed the man of lawlessness to remain until the present time, we do not raise complaints against Jehovah, as if he were responsible; like the Israelites complained whom God delivered out of Egypt, just to perish in the wilderness for their lack of faith. (Psalms 106:13-26; Heb. 3:7-14, 17-19) When we endure suffering at the hands of fellow believers, who view and shun us as apostate, we recognize it for what it is, a test of loyalty to Jehovah. Jesus acknowledged the similar situation of his faithful disciples in Smyrna, to whom he wrote: "I know about your suffering and your poverty—but you are rich! I know the blasphemy of those opposing you. They say they are Jews, but they are not, because their synagogue belongs to Satan. Don't be afraid of what you are about to suffer. The devil will throw some of you into prison to test you. You will suffer for ten days. But if you remain faithful even when facing death, I will give you the crown of life." (Rev. 2:9-10, NLT; compare 3:8-11)

It is possible for you to remain faithful to Jehovah in a congregation of which Jesus is the head; although the congregation may be rebuked by Jesus, or even come under his condemnation; as was the case of several congregations in the first century, such as the ones in Ephesus; Pergamum; Thyatira; Sardis; and Laodicea. (Rev. 2:1-3:22) Jesus never directed anyone to remove himself from any congregation; but, while acknowledging their suffering, he also encouraged them to "hold fast what you have until I come." (Rev. 2:25; 3:11) Can you hold fast what you have―your faith; your righteousness; your love for the truth and the brothers without judging anyone; your endurance under tribulation―until Jesus returns? The reward of everlasting life is worth whatever tribulation we must now endure. (Jude 21)
---
9/3/15 Is the Bible like a Fiddle on which any Tune can be Played?

Dr. Orestes Brownson, (1803 - 1876), once famously stated regarding his former religion―of which he had been a minister: "It is proverbial among [Unitarians] that the Bible is like a fiddle on which a skilful performer may play any tune he pleases." Since then, many others have adopted a similar opinion of the Bible. Is it true that the Bible is like a fiddle on which any tune can be played; meaning that a skilful preacher can support any teaching or doctrine by Scripture? William Lloyd Garrison, a prominent American journalist, and contemporary of Brownson, wrote in answer: "The Bible does not change, but the interpretations of the Bible are constantly fluctuating. Those interpretations are generally in accordance with popular opinion and the spirit of the interpreters. Men who are warlike,―men who deem it no sin to enslave their fellow-men,―men who are for retaliating injuries done to them,―men who are fond of a ceremonial religion,―naturally interpret the Bible in accordance with their views; while men of a opposite spirit construe its language in favor of perfect goodness and universal love." (Selections from the writings and speeches of William Lloyd Garrison, Volume 3) The great number and variety of denominations and faiths within the realm of Christendom, which claims to be guided by the Bible, has given rise to the belief that all religions are equally valid and just different roads leading to salvation. Everyone is invited to "attend the church of your choice."

Many former JWs have come to adopt a similar attitude because they discovered that the Society, in which they had put their faith, has also been fiddling their "own tunes"―so to speak―over the decades, making changes to their teachings whenever deemed convenient or necessary. They no longer believe that it is possible to know the truth that Jesus and the apostles taught, and as explained in the Scriptures. (John 4:23,324; 18:37,38; 17:17) No longer believing that God has a people who make up his household, they are drawn to organizations whose message appeals to most people, by "tickling their ears." (2 Tim. 4:3,4; 2:19; 1 Tim. 3:14,15; Mal. 3:14-18) The pamphlet, "We are Unitarian Universalists," distributed by the UUA, invites such ones: "Are you looking for a religious home? Unitarian Universalists say: 'I want a religion that respects the differences between people and affirms every person as an individual." --- "I want a church that values children, that welcomes them on their own terms—a church they are eager to attend on Sunday morning." --- "I want a congregation that cherishes freedom and encourages open dialogue on questions of faith, one in which it is okay to change your mind." --- "I want a religious community that affirms spiritual exploration and reason as ways of finding truth." --- "I want a church that acts locally and thinks globally on the great issues of our time— world peace; women's rights; racial justice; homelessness; gay, lesbian, bisexual, and transgender rights; and protection of the environment."

What religion, or church, do you want? The Bible tells us that there is only one true God and one true worship. (2 Cor. 6:14-18; 1 Cor. 10:19-22; 1 Tim. 2:3-6; James 1:27) Can we identify it? Of course! How? By accepting the Bible for what it is―the Word of God. (1 Thess. 2:13; 2 Tim. 3:16,17; 1 John 4:1, 6) The reason why many believe that the Bible is like a fiddle on which any tune can be played is because Jehovah caused his Word to be written in a such way that the truth is concealed from those who have no appreciation for true worship. Jesus told his disciples: "You are permitted to understand the secrets of the Kingdom of Heaven, but others are not. To those who listen to my teaching, more understanding will be given, and they will have an abundance of knowledge. But for those who are not listening, even what little understanding they have will be taken away from them. That is why I use these parables, For they look, but they don't really see. They hear, but they don't really listen or understand. This fulfills the prophecy of Isaiah that says, 'When you hear what I say, you will not understand. When you see what I do, you will not comprehend. For the hearts of these people are hardened, and their ears cannot hear, and they have closed their eyes—so their eyes cannot see, and their ears cannot hear, and their hearts cannot understand, and they cannot turn to me and let me heal them.' "But blessed are your eyes, because they see; and your ears, because they hear." (Matt. 13:11-16, NLT; compare Matt. 7:6; 1 Cor. 2:10, 14)

Those who are taught by God's holy spirit are able to discern when a teaching is out of harmony with the Bible. Like a fiddle that is not tuned properly, an unscriptural teaching will sound off key, the notes sour and hard on the ears. Such a fiddle (or any other instrument), when played in the midst of a large orchestra will ruin an otherwise beautiful musical presentation. If you too believe that the Bible is like a fiddle on which any tune can be played, then you need to bring your ears into tune with what the Bible teaches. (1 Tim. 4:1,2)
---

6/27/15
"Faith is not a Possession of all People"

How real is God to you? When you find yourself overwhelmed with anxiety, and you take all your cares to Jehovah in prayer, do you feel afterwards relieved in the assurance that he has heard your prayer and that he will act on your behalf? The apostle Peter invites us to "throw all [our] anxiety upon [God]." Why? "Because he cares for you." (1 Peter 5:7) And yet, after having done that, you may find that your problems are persisting; in fact, they may even have grown worse. Has that shaken your faith in God, that he is indeed the "Hearer of prayer"? (Psalms 65:2) If Jehovah really does care for us, and he is the Hearer of prayer, why then do our prayers seemingly go unanswered? Is there perhaps something we may be overlooking?

How well do you know God? Enough to trust him implicitly? The apostle Paul explains: "Without faith it is impossible to please God. Those who come to God must believe that he exists. And they must believe that he rewards those who look to him." (Heb. 11:6; NIRV) The disciple James similarly says: "When you pray, you must believe and not doubt at all. Whoever doubts is like a wave in the sea that is driven and blown about by the wind. If you are like that, unable to make up your mind and undecided in all you do, you must not think that you will receive anything from the Lord." (James 1:6-8; GNT) Do you have that sort of faith? The Scriptures tell us that "faith is not a possession of all people." (2 Thess. 3:2) Even Jesus' apostles at times displayed a lack of faith, prompting them to ask Jesus, "Give us more faith." (Luke 8:25; 17:56)

Clearly, faith is necessary if we are to expect God to listen to our prayer; not just faith that God exists, but also having the assurance that he will act upon the prayer. (James 2:19; 5:16-18) If you find that you are lacking in faith, "then all you have to do is ask God for it; and God will grant all that you need. He gives lavishly and never scolds you for asking." (James 1:5; The Voice) Does that seem contradictory, that is, asking God for more faith when he says that he listens only to the prayers of persons with faith? Happily, we have a helper in Christ Jesus himself. On the night of his arrest, Jesus assured his apostles, "I have made supplication for you that your faith may not give out." (Luke 22:32; Rom. 8:34) We also have God's spirit to help us at times when we don't know just what it is we need to pray for. Therefore, Paul says: "If we wait expectantly for things we have never seen, then we hope with true perseverance and eager anticipation. A similar thing happens when we pray. We are weak and do not know how to pray, so the Spirit steps in and articulates prayers for us with groaning too profound for words." (Rom. 8:25,26; The Voice)

As you study God's Word, and you become better acquainted with God's personality
―
his thoughts and his ways, which are so much higher than our own; and you regularly communicate with him in prayer, with the passing of time you will find yourself developing a trust in your heavenly Father that cannot be shaken in a time of trouble. (Isa. 55:9) Even if your prayer seemingly goes unanswered at the present, you have the assurance that he has heard you and that he will act upon your request at the appropriate time; which is never too late. Keep in mind that Jehovah has his own way and timeline of providing help, which is not necessarily the way you would expect. Help can come from unexpected sources; which prompted one elder to pose the question: "If I pray for something, and then I get it, how do I know that it was from God and not just a coincidence?" Of course, the obvious reply to him was: "Since you received what you prayed for, thank God for it without doubting."

Perhaps you have become guilty of a sin, and your conscience now causes you to doubt that Jehovah still listens to your prayers. You may even feel that you have committed the unforgivable sin. What then? Your regret over the sin, and your desire to set matters right with Jehovah are sure indications that you have not gone too far. Everything is not lost! You can restore your good conscience and regain your joy by going to Jehovah in prayer, asking for his forgiveness. Will he hear your prayer? Your case is not unique. We all sin many times, and are in need of forgiveness. Jehovah is a merciful God, and he tells us: "Search for Jehovah, you people, while he may be found. Call to him while he proves to be near. Let the wicked man leave his way, and the harmful man his thoughts; and let him return to Jehovah, who will have mercy upon him, and to our God, for he will forgive in a large way." (Isa. 55:6,7) The apostle John adds these words of encouragement: "My little children, I am writing you these things that you may not commit a sin. And yet, if anyone does commit a sin, we have a helper with the Father, Jesus Christ, a righteous one. And he is a propitiatory sacrifice for our sins, yet not for ours only but also for the whole world's." (1 John 2:1,2)

You can readily see the importance of your faith;
―
first of all, in the ransom sacrifice of God's only-begotten Son whereby we are reconciled to God as his sons and daughters; and also in the fact that God listens to your prayers because he cares for you. (John 3:16; Rom. 5:8-11; 2 Cor. 6:17,18; Gal. 3:26)


---

6/21/15
What is the Central Theme of the Bible?
T
hat question has been debated for centuries, with many diverse opinions expressed on the subject. Some have explained in great detail, according to their belief, that the main theme of the Bible is God's supremacy, his universal sovereignty, that was challenged in the Garden of Eden. (Psalms 83:18) Others have pointed to God's great love for mankind as the central theme, quoting Jesus' words to Nicodemus. (John 3:16) Then there are those who have attempted to combine those two thoughts. One Anglican minister once suggested that the rebellion in Eden was part of God's greater plan whereby he demonstrates his great capacity to love even sinners, something we would never have known about God if there had been no sin. After all, so his reasoning went, how could an all-knowing and all-powerful God not have foreseen the rebellion and intervened to prevent it―unless he had purposed it.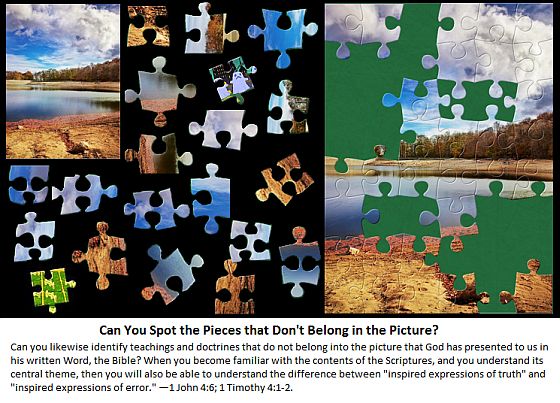 Some people place great emphasis on the sanctification of God's name Jehovah as being the theme of the Bible, based on the fact that the prophet Ezekiel mentions over sixty times that the people "will have to know that I am Jehovah." Interestingly, though, Ezekiel is saying this in regard to God's own people, who had become guilty of profaning God's name among the nations. (Ezek. 6:7; 36:23,24)
Other suggested themes of the Bible have been: Jesus Christ himself; God's kingdom; redemption and reconciliation with God through Christ; salvation through dedication (consecration); the new covenant; God's righteousness; the reward of all righteous people going to heaven; etc. etc. All these many subjects have been written about and explained in great length by many students of the Bible, often in a manner suggesting that these were the theme of the Bible; when in actuality they constituted important details of the greater picture. What, then, is the greater picture, the central theme, of the Bible? The apostle John explains very simply: "Whoever makes a practice of sinning is of the devil, for the devil has been sinning from the beginning.
The reason the Son of God appeared was to destroy the works of the devil.
" (1 John 3:8,
ESV
) This is the theme of the Bible! God's intent to "destroy the works of the devil" by means of the promised seed is what the Bible is about!
In the first book of the Bible, Genesis―the third chapter―we are told how sin came to be introduced into the perfect world that God had created; when a glorious anointed covering cherub made the decision to rebel against God; for which he subsequently came to be called Satan and Devil. (Ezek. 28:13-17; Rev. 12:9) This powerful spirit person succeeded in having our original parents―Adam and Eve―join him in his rebellion by getting them to break God's clearly stated command not to eat from the only forbidden tree in the garden, thereby bringing upon themselves and their yet future offspring sin and death. (Gen. 2:16,17; 3:1-6; Rom. 5:12) Immediately upon the rebellion, God not only pronounced sentence upon the rebels, but at the same time he also promised to "undo the works of the devil" at his appointed time. (1 John 3:8,
Darby Bible
) This he would do by means of the "seed," the identity of which remained a mystery until the arrival of the promised seed, which is Christ Jesus. (Gen. 3:15; John 1:9-13; Eph. 1:8-10)
Bringing to nothing "the works of the devil" by means of the promised seed is the central theme of the Bible
, which runs through its sixty-six books, culminating with its final fulfilment in the book of Revelation. (Rev. 20:1-3; 7-10, 14; 21:8; 1 Cor. 15:20-26)
All the information contained in the Scriptures are recorded to help us better understand the hows and the whys in the larger picture, such as: • God's sovereignty (Dan. 4:17, 34,35; 1 Cor. 15:28); • God's love and mercy (1 John 4:7-10); • the nation of Israel according to God's promise to Abraham (Gen. 22:17,18); • God's kingdom (Matt. 6:10; Dan. 2:44); • Christ's rulership with his "holy ones," the 144,000 (Dan 7:13,14, 27; Rev. 14:1-3; 20:6); • Christ's sacrifice and mankind's redemption (John 3:17,18; Rev. 7:9, 14-17); • God's various covenants; • his laws and dealings with his people; • baptism; • the sanctification of his holy name; etc. All these many details are important pieces in the greater picture, namely, that of destroying the works of the devil.